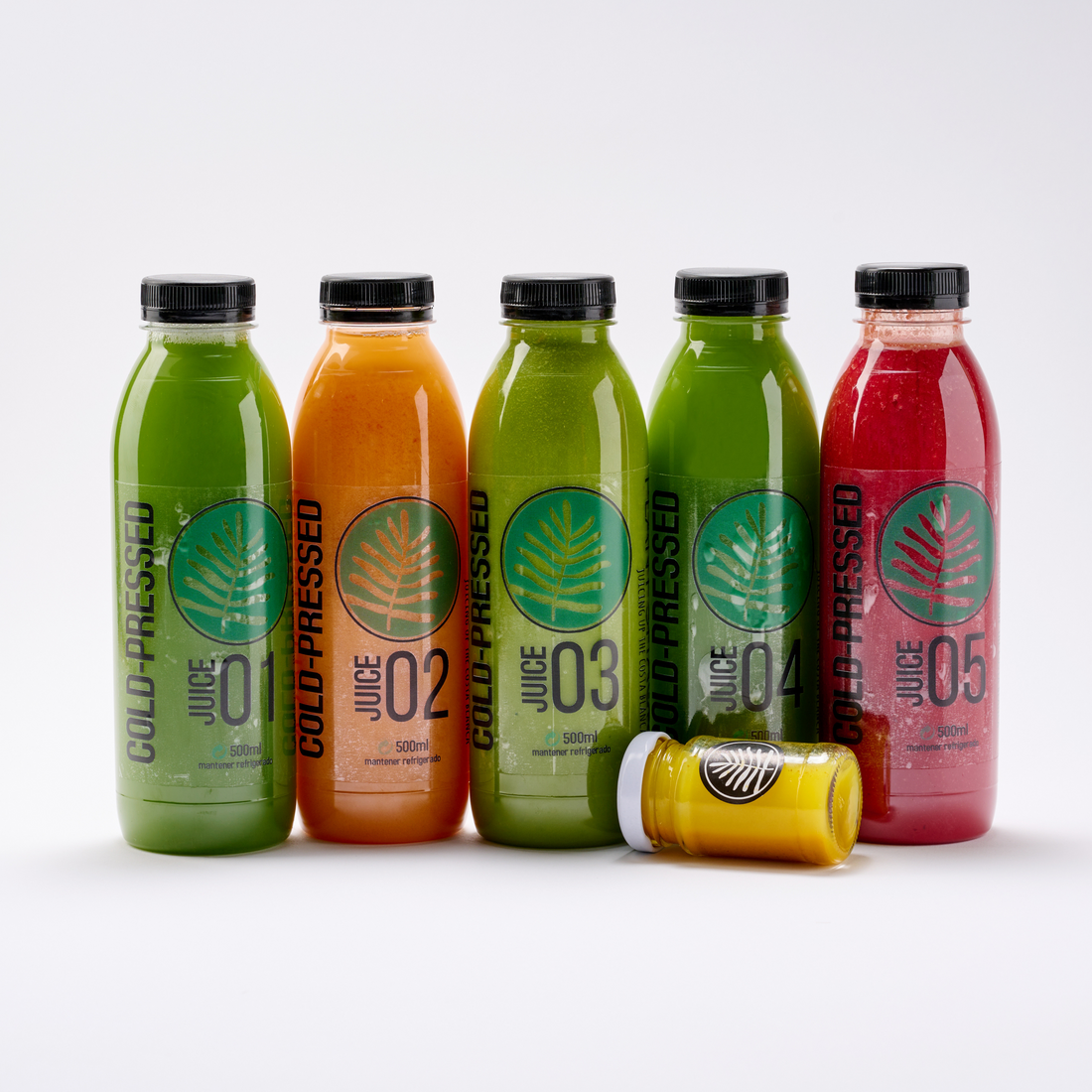 Our Juice Cleanses are freshly pressed each morning in-house using our industrial cold-press machine ("Nelly")  so you get maximum nutrition and your juice stays 100% raw and alive with enzymes. We do not HPP our juices. We supplement your evening juice with avocado and superfoods such as chorella, wheatgrass or spirulina to aid the cleansing process.
The 3 DAY FLUSH is good to flush out your system, rest your digestion and as a kickstart into healthier eating habits.
The 5 DAY RESET is when you really start to FEEL the benefits including renewed energy, and your body begins to reset and heal.
The 7 DAY MASTER cleanse is recommended if you are looking to really heal your body, lose weight or have any particular health issues that you are looking to address, as you can really experience some profound results in a week.
All programmes are suitable for beginners. Cleanses are gluten and nut free. Please advise if you have allergies to celery or other fruit & veg before booking.
- Pre Cleanse Guidance
- Cleansing Information Pack
- 4 Cold Pressed Juices and 1 Superfood Smoothie a day (500ml)
- 1 Detox Shot a day
- Daily Nutritional Menu Sheet
- Ongoing Support by Phone and in Person
- Free Breakfast Juice on your Post Cleanse Morning
- Post Cleanse Guidance
You can select the pick up location at checkout and simply collect your boxes of Juices from that Plant Shack. Our cold press juices last upto 3 days refrigerated, so you can collect each day or upto 3 days worth at a time. From there all you need to do is follow your plan, consume nothing but water, herbal tea, and your juices!
Your juices are numbered and you receive a full cleansing pack on your first day, with lots of information about cleansing, along with a daily sheet about what to expect that day and nutritional information on what you are having and why.  
Please note: to maximise your results you may need to adjust your eating habits a day or two before your cleanse. PRE-and POST-CLEANSE guidance is included in your plan. 
The 3 day cleanse starts Mondays and Thursdays. The 5 & 7 day cleanses start every Monday. Please select your start date at checkout.
You need to be available to collect your Juice Box every day or every 2 days from Plant Shack Altea or Plant Shack Calpe if you choose the pick up option. €20 delivery now available in Alicante region on request.
By resting our digestion our bodies naturally divert their energy into releasing stored toxins and healing.
At the same time we flood your system with nothing but living plant nutrition, with all the vitamins, minerals, phytonutrients and enzymes your body needs -  which shows up as bright skin, improved energy, and sense of well being.
It is incredible the power nature has to understand and heal the body!
SWIPE TO SEE AN EXAMPLE DAY = 5 X 500ml JUICES & 1 DETOX SHOT
PURE GREENS | DIGESTIVE DELIGHT | SUPERFLUSH | THYROID AID | GREEN DETOX | SKIN BOOSTER | HAPPY HEART | GINGER ZINGER | GREEN TURBO | PLANTSHACKER
WHAT PEOPLE ARE SAYING ABOUT OUR JUICE CLEANSES
MORE HELPFUL INFORMATION ABOUT OUR JUICE CLEANSES
During a cleanse you basically stop all the bad stuff coming into your body and replace it with only the good stuff. Once the body doesn't have to deal with digesting the daily onslaught of toxins coming into the body, it will begin to release the toxins stored in our tissues. In addition, by consuming only 100% pure natural living nutrition during this time we are helping our bodies speed up this natural process and work more efficiently. 
Juicing has so many powerful benefits for the body. Individual fruits & veggies have particular properties that are best for certain conditions, but the power of plant nutrition is that it works in synergy the way nature intended to bring your body back into balance – soall manner of conditions are targeted as a whole in one go!
Benefits include:
Mental ClarityEnergy BoostGlowing SkinReset your body to promote healthy eating habits Detox and re-hydrate your body Faster healing from cuts and woundsRegulate blood sugar Improve digestion and banish bloatingPrevent heart diseaseReduces chronic inflammation Boost liver functionHelps Type 2 diabetesWeight loss  (this is a happy side effect and not the primary benefit) 
Your body naturally knows how to heal if it is given the chance – for example your body will heal a cut itself without intervention. In order for your body to get into proper 'healing mode' it must have a rest from digestion, as digesting food takes up the most energy of any bodily function.  This is why induced comas exist - so that our bodies can rest to focus solely on healing. Juices are 'pre-digested' as all the fibre is taken out and there are no 'nasties' left over for the body to digest and process. Just pure liquid nutrition for your body to absorb immediately 
Yes. We recommended cutting out all processed foods, caffeine, alcohol, meat & dairy for a day or two leading up to your cleanse. This will maximise the benefits and minimize detox symptoms (as your body is not having to work through digesting all your food when it could be focussing on healing). We send you a pre-cleanse guide for you to follow when you book. We also offer a pre-cleanse meal pack which you can order at PlantShack.